High current air circuit breakers up to 4000 A
Part of Easy Series
EasyPact MVS is a range of LV power circuit breakers and switch-disconnectors designed to optimize cost and contribute to the safety and reliable performance of your electrical distribution network. The solution covers ratings from 800 to 4000 A in one single frame size.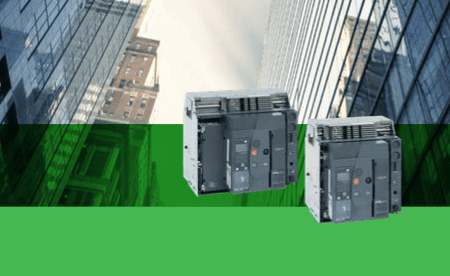 The worldwide benchmark for high current circuit breakers
MasterPact NW circuit breakers are equipped with MicroLogic control units that offer built-in power and energy metering in addition to basic or advanced protection functions. Two sizes are sufficient to cover applications from 800 to 6300 A, with breaking capacity from 42 to 150 kA.
The range comes with a wide choice of standardized accessories. The universal design of the MasterPact circuit breaker line allows most accessories to be used across the entire line. It enables standardization of electrical switchboards by providing peace of mind in terms of choice, installation, and operation.
Faultless protection
Increased uptime with improved coordination with MicroLogic electronic trip unit adjustability
Complete selectivity and coordination
High resistance to environmental stresses
Improved uptime with complete monitoring solution in Smart Panels
Seamless integration into power monitoring systems enabling to track energy consumption trends, anticipate potential damage and improve network reliability
Local and remote communication with trip cause (earth leakage, overload, short-circuit) and alarms (earth leakage, overload) allowing proactive operational and energy efficiency
Advanced MicroLogic control unit can assist in providing corrective, preventive and predictive maintenance, and energy management to identify potential savings: energy consumption data, operation follow-up, network monitoring, preventative and predictive maintenance information, pre-alarm and alarm events
Compactness
Standardized range of auxiliaries and accessories
Wide range of online and offline software tools that improve productivity at all stages of your project
Air Circuit Breakers - MasterPact NW
Fixed Circuit Breakers (3P)
Micrologic2.0E
Micrologic6.0E
Micrologic2.0E
ประเภท




Frame

รายละเอียดสินค้า




Frame (A)

Type N1

Type H1

Type H2

Icu = Ics = 42kA

Icu = Ics = 66kA

Icu = Ics = 100kA

Icu = Ics = 100kA

Icu = Ics = 150kA

รหัสสินค้า

ราคา




(บาท)

รหัสสินค้า

ราคา




(บาท)

รหัสสินค้า

ราคา




(บาท)

รหัสสินค้า

ราคา




(บาท)

รหัสสินค้า

ราคา




(บาท)

Single
pole
frame
800 MasterPact
NW08
NW0803F2EM
122,000.-
NW0813F2EM
134,000.-
NW0823F2EM
143,000.-
1000 MasterPact
NW10
NW1003F2EM
128,000.-
NW1013F2EM
142,000.-
NW1023F2EM
147,000.-
1250 MasterPact
NW12
NW1203F2EM
143,000.-
NW1213F2EM
151,000.-
NW1223F2EM
153,000.-
1600 MasterPact
NW16
NW1603F2EM
166,000.-
NW1613F2EM
173,000.-
NW1623F2EM
186,000.-
2000 MasterPact
NW20
NW2013F2EM
204,000.-
NW2023F2EM
247,000.-
2500 MasterPact
NW25
NW2513F2EM
258,000.-
NW2523F2EM
323,000.-
3200 MasterPact
NW32
NW3213F2EM
326,000.-
NW3223F2EM
373,000.-
4000 MasterPact
NW40
NW4013F2EM
486,000.-
NW4023F2EM
558,000.-

Double




pole




frame

4000b MasterPact




NW40b

NW4B13F2EM

621,000.-

NW4B23F2EM

691,000.-

5000 MasterPact




NW50

NW5013F2EM

713,000.-

NW5023F2EM

925,000.-

6300 MasterPact




NW63

NW6313F2EV

979,000.-

NW6323F2EV

1,155,000.-
Micrologic6.0E
Air Circuit Breakers - MasterPact MTZ
Drawout Circuit Breakers (3P)
Micrologic2.0E
Micrologic6.0E
Micrologic2.0E
ประเภท




Frame

รายละเอียดสินค้า




Frame (A)

Type N1

Type H1

Type H2

Icu = Ics = 42kA

Icu = Ics = 66kA

Icu = Ics = 100kA

Icu = Ics = 100kA

Icu = Ics = 150kA

รหัสสินค้า

ราคา




(บาท)

รหัสสินค้า

ราคา




(บาท)

รหัสสินค้า

ราคา




(บาท)

รหัสสินค้า

ราคา




(บาท)

รหัสสินค้า

ราคา




(บาท)

Single
pole
frame
800 MasterPact
NW08
NW0803D2EM
169,000.-
NW0813D2EM
177,000.-
NW0823D2EM
183,000.-
1000 MasterPact
NW10
NW1003D2EM
180,000.-
NW1013D2EM
184,000.-
NW1023D2EM
185,000.-
1250 MasterPact
NW12
NW1203D2EM
197,000.-
NW1213D2EM
203,000.-
NW1223D2EM
206,000.-
1600 MasterPact
NW16
NW1603D2EM
212,000.-
NW1613D2EM
222,000.-
NW1623D2EM
243,000.-
2000 MasterPact
NW20
NW2013D2EM
270,000.-
NW2023D2EM
309,000.-
2500 MasterPact
NW25
NW2513D2EM
337,000.-
NW2523D2EM
389,000.-
3200 MasterPact
NW32
NW3213D2EM
432,000.-
NW3223D2EM
468,000.-
4000 MasterPact
NW40
NW4013D2EM
616,000.-
NW4023D2EM
663,000.-

Double




pole




frame

4000b MasterPact




NW40b

NW4B13D2EM

758,000.-

NW4B23D2EM

831,000.-

5000 MasterPact




NW50

NW5013D2EM

822,000.-

NW5023D2EM

1,077,000.-

6300 MasterPact




NW63

NW6313D2EV

1,130,000.-

NW6323D2EV

1,464,000.-
Micrologic6.0E